Westmont Magazine Alumnus Makes a Gift; Student Researchers Present Their Work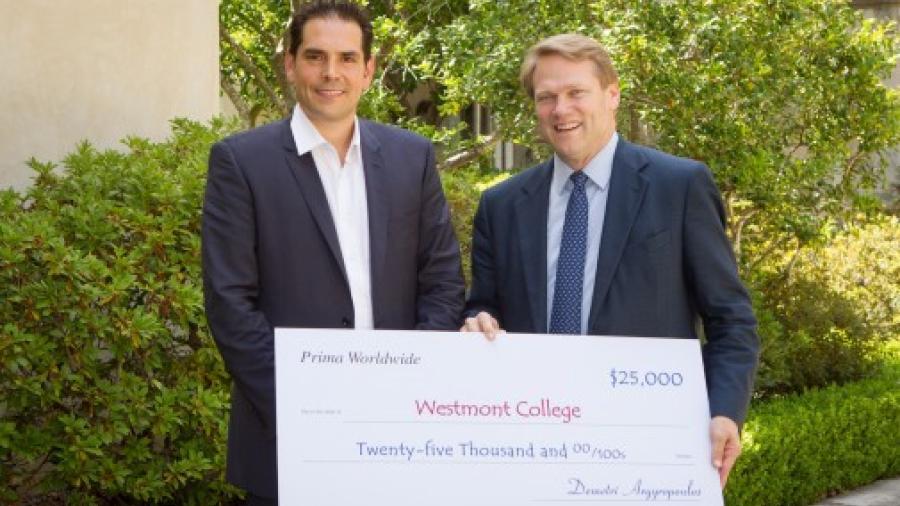 Alumnus Supports Westmont
Demetri Argyropoulos '99 presented President Gayle D. Beebe with a $25,000 gift toward projects at Westmont. Founder and CEO of Prima Worldwide, he helps negotiate and close business deals between international parties. He has originated, co-founded, or beeninvolved at seed level in more than 33 companies and also works with foundations, charities and non-government organizations. He earned a degree in international economics and business at Westmont, studied international business at American University and Georgetown University's American Government and Foreign Policy program, and participated in the International Business Institute's Europe program.
Celebrating Summer Research
Westmont students exhibited summer research projects in September. Elizabeth Grossman (chemistry), Eric Zuidema (psychology), Jake West (biology), Sierra Garrett (physics) and Jennifer Sanchez (education) explained their research and discussed collaborating with faculty. The event honored Allan Nishimura's 100th research paper, many of which he wrote with students. The first recipient of the Faculty Research Award in 1984 and Teacher of the Year in 1998 and 2011, Nishimura has retired after teaching chemistry for more than three decades.
Students conducted research in a variety of areas, including the garter snake's blood glucose response to stress, the lymphopenia and homeostatic expansion in mice with inherited inflamed joints, charged particle trajectories with the Large multi-Institutional Scintillator Array (LISA) at the National Superconducting Cyclotron Laboratory at Michigan State, distinguishing the best neutral prime for research on biculturalism, and examining the Greek text of Revelation.
Westmont has a long tradition of providing opportunities for students to partner with their professors on cutting-edge research. Some faculty are products of this tradition, including Niva Tro and Kristi Lazar Cantrell.