Westmont Magazine Joining the Farm-to-Fork Movement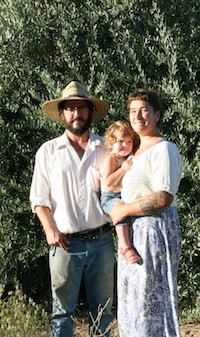 Living and raising children in the country appealed to Rachel Kasa '00. "But I was a little naive about what it took to be a farmer's wife," she says. Since 2009, when she started Casa Rosa Farms in Fresno with her husband, Anthony, she's learned what the job entails. Work days may start at 6 a.m. and last until 10 p.m. Tasks range from bottle-feeding lambs, keeping weasels out of the chicken coop, organizing an olive harvesting party and finding ways to market organic products to make a profit. "We want to create a viable income for ourselves so we can pass our farm on to the next generation," she says.
Anthony comes from three generations of farmers in the Fresno area, and Rachel grew up on 10 acres in rural Santa Ynez. This year they relocated their farm to California's Capay Valley near Guinda, a better area with a good organic community and more rain. Cache Creek runs through their land much of the year, and Rachel watches sheep graze outside her kitchen window.
Anthony's parents also moved their farm. Rachel and Anthony continue to raise cattle and grow olives in the foothills of Madera County as they develop the new site. They produce CasaRosa Farms organic extra virgin olive oil, sold in more than 30 stores in California and Nevada, meat from pastured sheep and cattle and free-range poultry, wool, and fruit and jam from their orchard.
"We're part of the farm-to-fork movement," Rachel says. "We're certified organic, we use sustainable, water-wise methods and raise our grass-fed animals humanely." They sell most of their products through East Bay farmers markets, but Rachel seeks wider distribution to move more volume, especially for their meat. "It's hard to haul a variety of cuts to these markets," she says. Casa Rosa cultivates 20 acres; 50 cattle and 70 California red sheep graze on 268 acres.
Rachel has cultivated a love for California native plants and added hedgerows of them on the Fresno farm with funds from the National Resource Conservation Service. These plants provide shelter for beneficial insects, vertebrates and rodents and add variety to the environment. She'll do the same thing on the new site.
A home-schooled student, Rachel appreciated Westmont's forward-thinking policy of accepting applicants like her. She enrolled at 16 and majored in communication studies. "You may not learn a lot of specific skills at Westmont, but you learn how to figure out what you need to know," she says. During a semester at Westmont in San Francisco, she mastered broadcast production as an intern at KPIX-TV. After graduating, she worked in this field for a Bay Area advertising agency. Finding that unfulfilling, she switched to something more service-oriented, caring for children with disabilities in a group home. Then a truck hit her while she was riding a bicycle. Initially, doctors thought she'd never walk again, but she proved them wrong—although she describes her gait as "hardly graceful." Physical limitations ruled out continued work as a care giver. About that time, she met Anthony and eventually became a farmer's wife, helping him raise crops, animals and their 2-year-old daughter, Olivia.
With a settlement from the accident, Rachel and Anthony set up a portfolio to invest in socially conscious projects. They support a solar-powered installation for a nursing home, an urban check-cashing store front that charges regular bank fees, services for people with disabilities and organic farming. "There are ways for investors to make money and do something positive," Rachel says. "We make a return and help people as well."