Westmont Magazine More Millennials Arrive at Westmont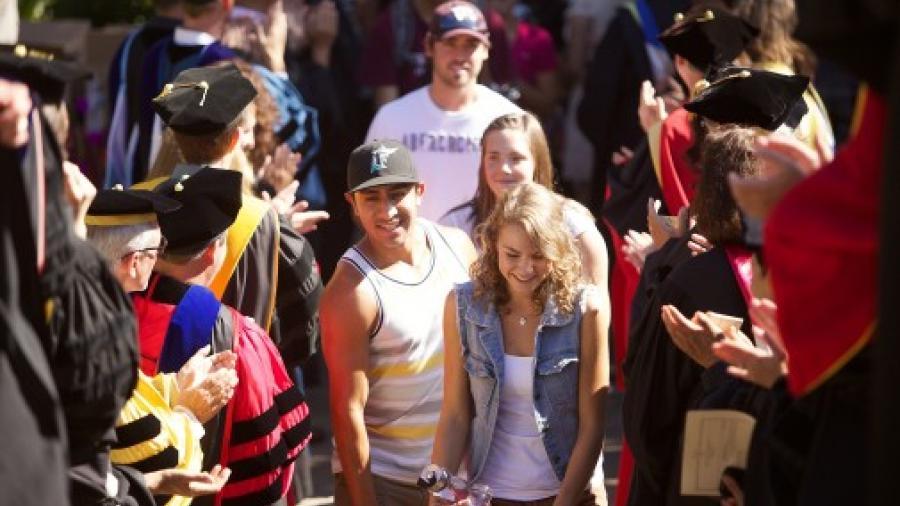 New First-Year and Transfer Students Bring Impressive Academic Credentials and Digital Savvy to Campus
Westmont welcomed 360 new students in August from 12 countries and 26 U.S. states. North American ethnic minorities make up 28 percent of first-year students, and 17 identify themselves as multiracial. Thirteen international students represent Australia, China, United Arab Emirates, France, Japan, Singapore, South Korea, Uganda, United Kingdom, Venezuela and Vietnam.
"Westmont continues to attract diverse and high-achieving students with wonderful gifts and talents," says Silvio Vazquez, Westmont dean of admissions. "Though they come from around the globe, they share a wonderful commonality. They want to study in an environment that will challenge them holistically—intellectually, spiritually, physically and emotionally."
Known as "Millennials," the young men and women in this U.S. generation have mastered all things digital. They communicate with each other and the world primarily through Twitter, Instagram, Facebook and texting. Most millennials in the nation adeptly juggle several tasks at once and tend to expect services instantly. Four in 10 display a tattoo; for many, one isn't enough. They could become the most educated generation in American history.
Westmont's first-year students were likely born in 1995, the year the Oklahoma City Federal Building was bombed, "Toy Story" debuted as the first computer-generated film, Starbuck's released its Frappuccino, gasoline cost $1.09, and the DVD first appeared.
The 300 first-year students in the class of 2017 include three National Merit Scholars. Two-thirds have earned academic merit scholarships ranging from $10,000 to full tuition. They achieved an SAT/ACT 25th-75th percentile range of 1080-1310.
The two Monroe Scholars, Nathanael Aasland of Altadena, Calif., and Abby Gritter of Holland, Mich., received full-tuition scholarships and earned an average high school GPA of 4.103 and an average SAT of 1580 (math and critical reading).
The top five majors students expect to pursue include: economics and business (15 percent); pre-med (biology, chemistry or kinesiology, 14 percent); biology (eight percent), psychology (six percent), and kinesiology (six percent).
About a quarter of all new students (19 percent first-year and 53 percent transfer) grew up in Santa Barbara County. The 57 transfer students arrive from a variety of schools, including Columbia University, University of Colorado at Boulder, Savannah College of Art & Design, Point Loma Nazarene University, Loyola Marymount University, Louisiana State University at Baton Rouge and Gordon College. The new students have also transferred from more than 15 community colleges.