Westmont Magazine Small Artwork Makes a Big Contribution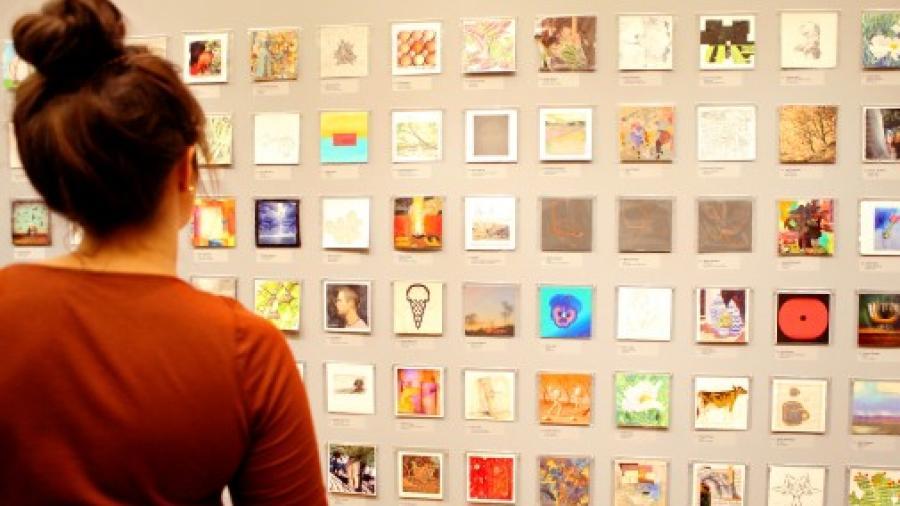 An Online Auction of Five-Inch-Square Works of Art Raises Money for the Westmont Ridley-Tree Museum of Art.
Small-scale creations from 400 artists across the country combined for a unique exhibi­tion,"5X5:An Invitational," at the Westmont Ridley-Tree Museum of Art in December. The artists donated their work, which the museum sold through a 17-day online auction. This event, the first of its kind for the museum, raised $26,000 with 150 people purchasing art. The funds supported the museum's next event, Días de México: A Family Festival, March 24.
The piece, "Learn to Draw," by John Baldessari, an internationally known conceptual artist, sold for $2,505. "Snacks in the Balance," a pre-study painting by Scott Fraser, brought $1,000 to the museum.
Artists and well-known public person­alities contributed to the exhibition, which featured more than 450 five-inch-square works of art.The pieces ranged from highly finished, still-life paintings in oil on canvas to lighthearted cartoons by graphic artists.
Nationally recognized artists participating in the benefit exhibition included Charles Arnoldi, Ed Moses, John Baldessari and Robert Mangold. Local luminaries such as printmaker Tony Askew (emeritus distin­guished professor at Westmont), painter Mary Heebner and actress Carol Burnett also submitted works. Images included a painting by Penelope Gottlieb, a drawing by Hilary Brace, a collage by Susan Tibbles and a hand-colored print by Dane Goodman.
"The response from artists was amazing, and visitors had fun discovering the artistic variety of these small works," says Judy L. Larson, director of the museum and R. Anthony Askew professor of art history. "The online auction provided a way to acquire original works of art by well-known artists that might otherwise be out of reach. The generous contribution of these artists will help fund the museum's educational programming for the community."
"Thanks to the support we received for the auction, the Días de México festival was a free community event, celebrating the vibrant culture of Mexico," says Chris Rupp, museum collections manager and the guest curator of the 5×5 exhibition. The festival offered fun activities, crafts, music, dance, storytelling, food and more.