Westmont Magazine Time for God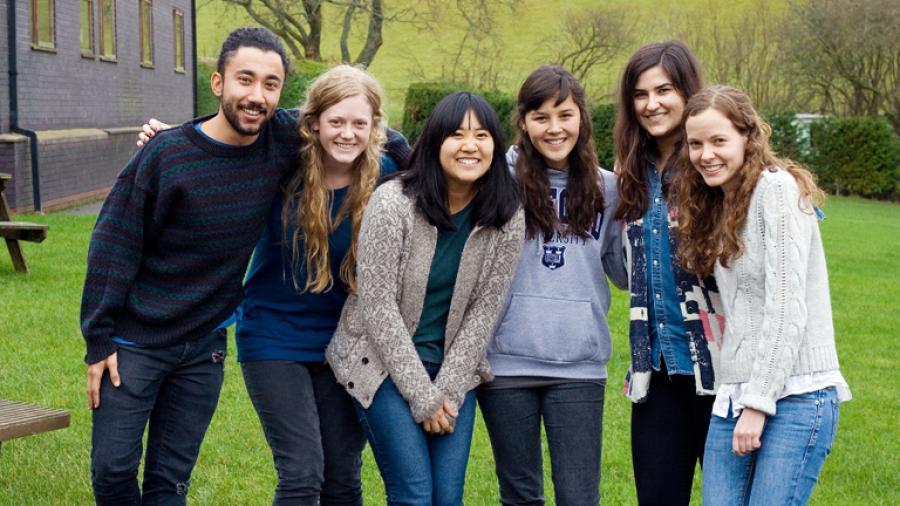 by Chrissie Mayer '07
A new word defines a spreading phenomenon in Britain: olympify. British organizations—from massive banks to local charity shops—are channeling the excitement surrounding the 2012 Olympic and Paralympic Games for their particular purposes. Even the church is proactively engaging in olympification, and I mean The Church, Christ's body and bride made up of diverse, other-centered, sometimes overlooked, people with sheep- like tendencies. Christians are joining together in unprecedented ways and across entrenched boundaries to respond to the 2012 games through local outreach, hospitality and service. Six Westmont alumni are spending their days helping shape this olympification.
When groups seek to olympify, they succeed by focusing on what they're passionate about and know best. In that spirit, Time For God, a long-standing volunteering organization, handed me the task of recruiting full-time volunteers and matching them with projects offering visionary responses to the games. Similarly, churches came forward seeking a volunteer to live among them and help with their Olympic outreach, which expressed their community's passion and ongoing ministry.Together we reviewed these churches' ideas for everything from faith-based art exhibitions and children's holiday clubs to prayer walks and street parties. As volunteer applications came in, I smiled to see more than a few from Westmont alumni.
During interviews, each of our 2012 volunteers demonstrated unique ways in which they wanted to join the church's grassroots response to the Olympics. More than a year ago Kathryn Kong '10 moved to Newham, one of London's Olympic Boroughs and most deprived areas, to help a small, free church grow its many community development projects. She regularly serves tea in Cornerstone, the church's community café, and chats with Irene, one of her regulars. Soon after, Annie Slattum '10 set up residence in Walthamstow, another diverse part of East London, to assist a group of Anglican churches build their Olympic outreach projects and contribute to their ongoing youth ministry. Annie regularly visits Daisy's, one of the few local cafés, where she meets with her youth for informal mentoring. Last spring Breanna Taber '10 moved into a vicarage also in Walthamstow and began helping the Church of England's national Olympic coordinator and East London area adviser inspire and equip its leaders to respond to the games.As Breanna drops in on various events and meetings, she adds new names to her email contact list, ready to update them with good-news stories of how church communities in London are uniquely engaging with the games.
In September, Josh Tengan '10 found himself in Newcastle filling a key role in an exciting arts project set up by a local Methodist church partnering with the largest independent gallery in the U.K. Josh cycles in all weather conditions to studios and interviews with local artists for upcoming exhibitions at the Holy Biscuit Gallery. Josie Haugh'11 also came in the fall to help coordinate Olympic projects for an East London Anglican church well equipped to serve and reach families in the local community. Josie shares ideas in meetings about upcoming local events, including the Queen's Diamond Jubilee street party or the open-air screening of the opening ceremony of the Olympic Games.
At every level of Britain's society, groups seeking to olympify will have different ways of measuring the results of their engagement.As a staff member of Time For God, I will weigh outcomes against our mission of creating volunteering opportunities through which God changes lives. I'm already seeing this fleshed out in our 2012 volunteers and those they serve. Our volunteers have their own dreams for the Olympics. For example, Kathryn hopes to see the church actively welcoming outsiders visiting her local community, challenging the stigma that nothing good comes out of Newham. Helping facilitate projects across a variety of churches, Josie and Annie want to see the power of unity displayed through their parishes in East London. Churches across Britain expect 3,000 mission volunteers from around the world to join them during the Olympics and Paralympics. Olympic fans and skeptics alike can be encouraged by the many people seeking to make a positive and lasting impact.
Chrissie Mayer is the Time For 2012 coordinator and a field officer at Time For God. Chrissie@timeforgod.org