Westmont Magazine A Family Sacrifices to Serve Westmont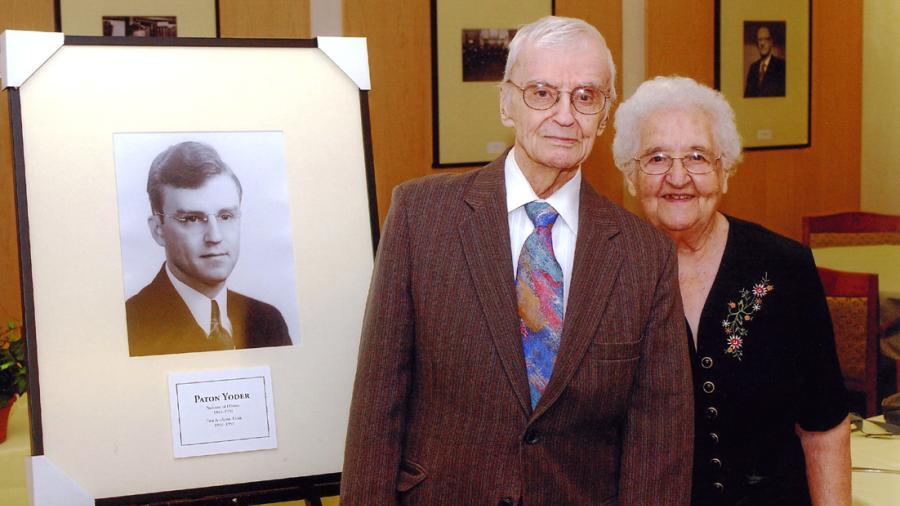 Westmont's first faculty taught faithfully even though they never knew when they'd get paid and rarely received their full salaries the first 10 years. Unlike most of his colleagues, Paton Yoder brought his wife, Hazel, and a child to Los Angeles in 1940 when he accepted a position as professor of history and chairman of the department. Her willingness to live with such uncertainty demonstrated her commitment to her husband and the young college.
"We came with a lot of uneasiness and also a lot of expectancy," Paton said in a 1984 interview. "We found that same spirit at the college, a great spirit of expectancy but also a concern for the future not knowing quite what was going to happen . . . because the school was so new."
Paton taught most of the history courses in those early years. His doctorate from Indiana University added prestige to the faculty, and he set a standard for professionalism. Students remembered him as an inspiring teacher who prepared them well for graduate school.
To supplement his income, Paton took second jobs in a mirror and frame shop and in manufacturing plants for dehydrating food and making ice. Hazel cared for a foster child.
Finding housing presented a challenge. The first year, the Yoders lived in a little cottage near the Los Angeles campus; the second they served as house parents for a small Westmont residence hall. They then discovered a duplex in the Silver Lake area, where they remained during the war years. When Westmont moved to Santa Barbara in 1945, Paton commuted for a year, coming home only on weekends. The war had created a housing shortage, and the Yoders couldn't find a place for their growing family in Santa Barbara. In 1946, the college asked him to serve as academic dean and offered him the gardener's cottage on campus as a residence. Hazel and Paton lived there for four years before returning to the Midwest in 1950, where he taught at several colleges. "Our family roots were calling us back," he said.
Paton and Hazel grew up in the same Mennonite church in Goshen, Ind., and married in 1936. She had attended a year of college, but her father didn't think women needed an education. Instead, she cleaned house for affluent families until her marriage. "I could have enjoyed no other calling as much as this call to motherhood," she wrote for her obituary. Paton commented in the 1984 interview that she had raised their five children to the "nth degree."
Hazel contributed financially by caring for other people's children when hers were in school. In later years, she worked as a church secretary and as a college switchboard operator and also volunteered for Meals-on-Wheels.
When Paton died in August 2008 at the age of 96, he and Hazel had been married for 72 years. She died at 100 on April 3, 2013.
Paton said he always considered Westmont his first love. "I feel good about my colleagues, about the camaraderie, the Christian fellowship, the spiritual sharing and the considerable spiritual growth," he said. The faculty shaped, changed and enriched his views, especially his ideas of grace, forgiveness and love. Despite the financial challenges, the Yoders flourished.
Editor's Note: This article is based on a history by Paul Wilt, professor emeritus of history, and his 1984 interview with Paton Yoder.