Westmont Magazine Making Strides in Sports and Life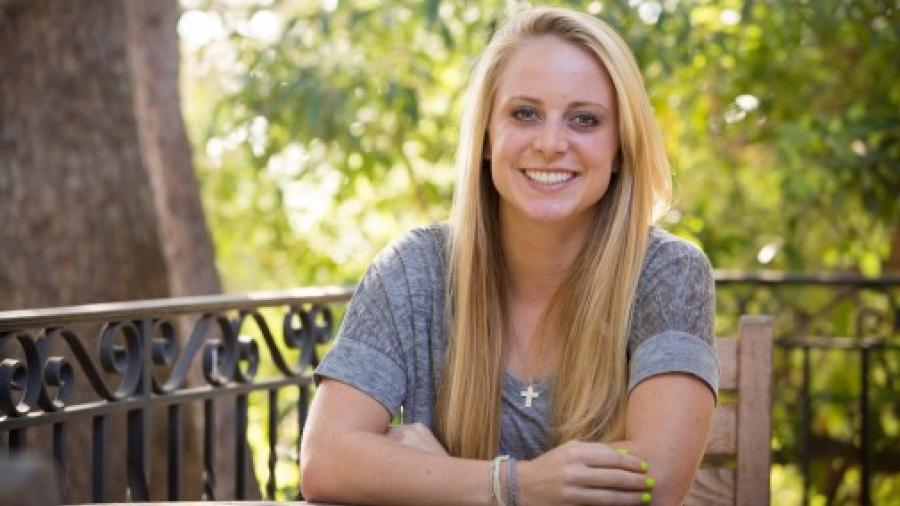 A Westmont Athlete Seeks to Qualify for the 100 and 200 Meters in the 2016 Paralympic Games in Brazil
Sophomore Lexi Youngberg lost her left leg in a boating accident on Spring Lake, Mich., that took the life of a friend. The 16-year-old survived a head injury and nine surgeries, many on the limb severed below the knee. After months of grueling physical therapy at the Rehabilitation Institute of Chicago (RIC), she took her first steps with a prosthetic leg. She's been moving forward ever since.
Three months after the accident, she returned to the ski slopes, and that summer she wake surfed on the lake with a customized prosthetic. Eventually, she fulfilled a promise she made to herself and her teammates, returning to the soccer field at Wheaton Academy, where her team had won a state championship 18 months earlier.
A kinesiology major at Westmont, Lexi has set a new goal: competing in the 2016 Paralympic Games in Rio de Janeiro, Brazil. Driven by her competitive nature, she took a semester off to focus on training. "Pursuing a dream of competing in the Paralympics takes a 100 percent commitment," she says.
Initially Lexi thought of participating in the 2014 Paralympic Winter Games. "I was barely able to walk without crutches, but I set a goal to snow ski during Christmas break after the accident," she says. "It took determination to learn to ski with a prosthetic, but I did it, and I improve each year."
She moved to Colorado to train for down-hill ski racing and snowboarding every day. "It was fun for me, but it was hard," she says. "I learned how to snowboard, and in two weeks I was doing black-diamond runs. But it was a challenging experience and a different mind set. I grew a lot during the move as I figured it out."
A coach with the U.S. Paralympic track and field team read about Lexi in Scholastic Magazine and contacted her."They had heard about me playing soccer and my goal to compete in the Paralympics," she says. "They saw potential in me and thought I could have a future in track. Since I wasn't in school at the time, I figured this was my opportunity to give it a shot!"
Lexi went to the Olympic training center in Chula Vista, Calif. With only one week of training, she competed in her first two track meets. "The Westmont track team also participated in the Pomona Pitzer meet," she says. "They showed their support by cheering me on." She finished surprisingly well given her lack of experience. "They were pretty shocked that my time was as fast as it was," she says. "I had little practice using the starting blocks."
During the summer, Lexi once again beat the odds, winning a trip to Fiji through the Dare Yourself contest hosted by Roxy, a clothing brand. Out of 4,000 entrants, she was selected as one of five global winners to represent the Americas.
"This was definitely a God thing," Lexi says. "The trip was a dream so much bigger than I could have ever imagined. I have always loved the Roxy brand and the heart-shaped logo that represents energetic living, joy and adventure. This definitely was an epic adventure and one of the coolest experiences on my journey."
At each step of the contest, she submitted inspiring essays and videos about how she continually dares herself in her everyday life. In addition to the week-long trip to Tavarua, she received Roxy clothing.
"One of my favorite parts of the trip was being able to ride what felt like an endless wave and to see the beautiful reefs below me," she says. "It was truly breathtaking and a moment I'll never forget."
Back in Santa Barbara, Lexi resumed classes at Westmont and joined the track and field team. "I've been running with Coach Jason Oatis, and he's challenging me," she says. "We're taking it one day at a time."
Lexi says her goal isn't simply to compete in the Paralympics but to break the world record in the 100 meters.
Eventually, she hopes to pursue a career as a pediatric physical therapist for children with disabilities. "I volunteer at RIC, where I went for rehabilitation" she says. "Going back is a wonderful experience for me, being able to give back by assisting the physical therapists who helped me regain strength so I could use crutches and prepare to walk with a prosthetic." Lexi also taught people with physical and visual impairments how to wake board when she was in high school.
She has adopted Jeremiah 29:11 as her life verse: "'For I know the plans I have for you,' declares the Lord, 'plans to prosper you and not to harm you, plans to give you hope and a future.'"
"Trusting God in every situation and giving him the glory in all circumstances, I hope to inspire people of all ages to live life without limits," she says. "I want people to always remember to dream bigger than yourself and never let fear hold you back from doing what you love."