Westmont Magazine Summer Scholars Get a Jump Start on College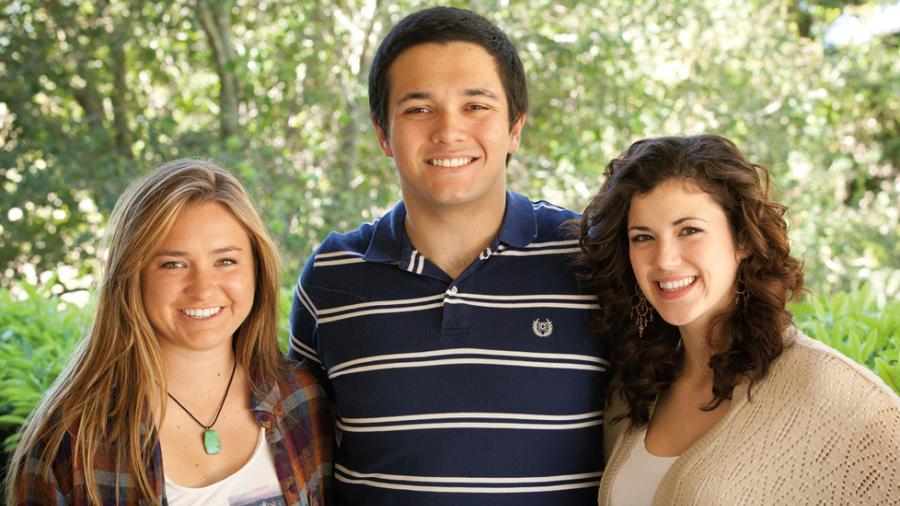 A New Westmont Program Brings High School Students to Campus to Experience College Life and Earn College Credits
High school students curious about college can experience it in person by enrolling in a new program. Westmont allows juniors and seniors to take three weeks of intensive classes with professors while living on campus in a residence hall.
More than 100 students have applied to study either Perspectives on World History with Alister Chapman, Philosophical Perspectives on Truth and Value with Christian Hoeckley, or Introduction to Christian Doctrine with Telford Work. Up to 60 students will participate this summer, more than the 11 who attended last year.
Joyce Luy, former dean of admission, and Hoeckley, who also directs the Gaede Institute for the Liberal Arts, developed the concept. "Other colleges and universities offer similar programs, but few Christian colleges do," Hoeckley says. "We want high school students to taste the way Westmont integrates learning with the Christian faith."
The residential program serves as a bridge to college for first-generation students who excel academically but might struggle when searching for and applying to colleges. It also helps recruit students. Every high school junior who attended last year applied early to Westmont, and the three seniors returned to campus as first-year students in the fall: Kelly Tully from Chico, Calif. (above, left), Will Breman from West Hills, Calif., and Katelyn Mena from Colusa, Calif. (above, right).
Will learned a great deal from the professors."I could tell from their eagerness and excitement that they really love what they do," he says."I figured all the Westmont professors were as wonderful and experienced. So far I haven't been disappointed."
Katelyn had already applied to Westmont before signing up for the summer program. "I was interested in the rigorous challenge, and it sounded like a great way to earn credits before I started college," she says.
"The program sealed the deal. The professors were amazing, and living on campus made it start feeling like home."
Kelly wanted a short college experience to prepare for the real thing."I got a feel for Westmont and the small-classroom environment,"she says."I got close with everyone. My roommate and I got along so well, we asked to be roommates this year. I still keep in touch with everyone."
Nearly all of Kelly's friends complained about their workload at the start of the year."But I knew what I needed to do," she says."The program helped me prepare for the heavy reading assignments."
Summer Scholars forced Will to be more organized and form healthy study habits. He also got to know the 111-acre campus."It's scary when I go home to L.A. and immediately feel homesick, as if Westmont has become my home rather than L.A.," he says.
All 11 scholars found it easy to make friends."We felt like a family, and leaving was hard," Katelyn says. The remarkable sense of community that grew last summer impressed Hoeckley. "Between that and the fantastic faith-learning integration in the classroom, we captured the essence of the Westmont experience,"he says.
Westmont offered two innovative, interdisciplinary and team-taught courses in 2011."They each addressed real-world, cutting-edge issues: the culture and politics of the Middle East and the frontier of human thought and computing," Hoeckley says. "With these topics, we explored intersections with the students' faith."
Last year the group traveled to Los Angeles and the Channel Islands."The trips were fun, stress-relieving and insightful," Will says."We all looked forward to that free time, "Katelyn says."After long weeks of non-stop studying, leaving campus gave us an opportunity to get to know one another and have some fun."
Kelly, who worked with the Westmont sports broadcasting team her first semester, says she has enjoyed the small class sizes. "We have group discussions instead of lectures like most colleges," she says. "The teachers are incredible, getting to know each of us on a personal level. It creates a more comfortable learning environment. The broadcasting internship has allowed me to meet more people and see the Christian community in a working environment."
Will, who sings with the Men's Chorale and New Sounds, has found a genuine sense of community at Westmont. "I feel like I fit in with a whole array of people who share an amazing love for Jesus Christ," he says. "I feel like I've made lifelong friends."
Katelyn, who plays on an intramural volleyball team, says she enjoys the challenges she faces daily."The professors have helped me grow and be stronger not only academically but emotionally and spiritually. That is exactly what I was looking for in a college."