Westmont Magazine Taking Computers into Classrooms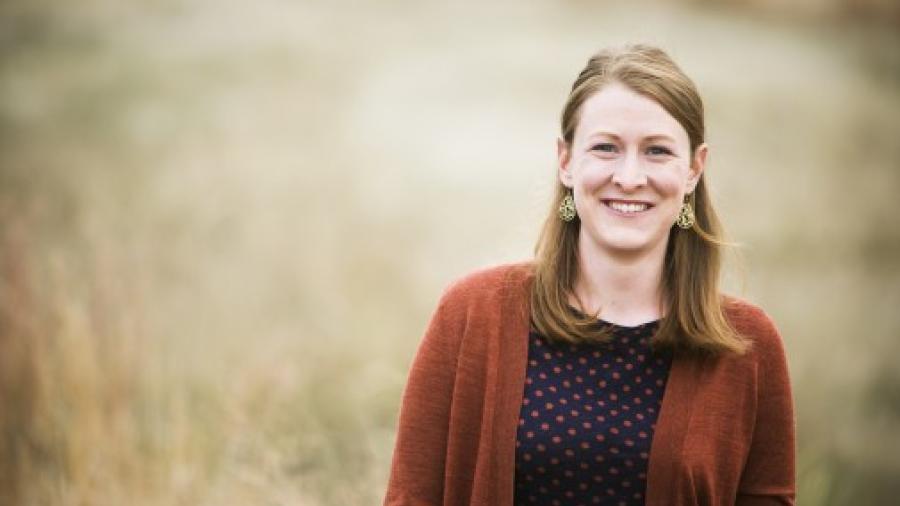 Annie Evans '07 seeks ways to use technology and education to help people. After earning a degree in computer science, she taught high school for several years and then joined two education software companies. Through her work as an implementation manager for CompassLearning, she assists elementary and secondary schools in 10 western states use computer-based programs for students.
Even before her older sister, Katie Humphreys '05, enrolled, Annie chose Westmont for its beautiful campus and emphasis on faith. "I didn't want to lose that aspect of my life or compartmentalize it," she says. "I appreciated the high standards in academics and good professors. So many people there were truly invested in me as a student." She signed up for a class in computer science after seeing a flyer with a Lego robot. "I loved Legos as a kid," she says. "Kim Kihlstrom taught the class and couldn't have been more fabulous and supportive. She's an amazing role model of a woman in a male-dominated field."
During Westmont in San Francisco, Annie helped teach computer science at an all-girls high school. She also worked as a counselor at a computer summer camp. These experiences led her to teaching because she enjoyed working with students. She returned to her native Colorado and earned an alternative credential while teaching computer programming, designing the website and starting and coaching a robotics team at Frontier Academy Charter School in Greeley. When she moved to Denver to teach at a charter school there, her position was cut at the last minute. Scrambling, she found a job with an education software company, New Dimension Media, working in sales and professional development. In 2011, she joined CompassLearning, which makes the software Odyssey. She meets with administrators to determine the best uses of the program, trains the teachers and assesses student performance.
Schools adopt Odyssey for different purposes, such as intervention for students who struggle academically or enrichment in after-school programs. Students can also use it to make up credits when they fail a class. In some elementary school classrooms, all students learn certain subjects on the computer, working at their own pace. "It's powerful software, but it's not just a teacher in the box," Annie says. "It's a tool; teachers still need to be involved in student learning." The software identifies students who are struggling and pinpoints problem areas so teachers can help them more effectively. Teachers have more flexibility to spend individual time with students who need their assistance.
Annie works with Vail Blended Learning, a charter school where students study independently on the computer all morning and spend afternoons involved in discussions, hands-on projects and field trips. "A lot of schools are moving toward this kind of blended learning on a limited basis," she says. "Teachers are no longer the center of attention, the students are. They have ownership of their learning and more choice about what they study."
The characters and teachers in Odyssey talk directly to students; young children often talk back. Annie cites research demonstrating that humor, fun and an emotional connection can help students learn better. "It's a fine balance," she says. "If it's too much fun and games, students think they're wasting their time."
Annie says her major and her teaching experience prepared her well for her work. "Computer science is about solving problems," she says. "It's a way of thinking and helpful in so many areas of life and not just my job."