Degrees & Programs Writing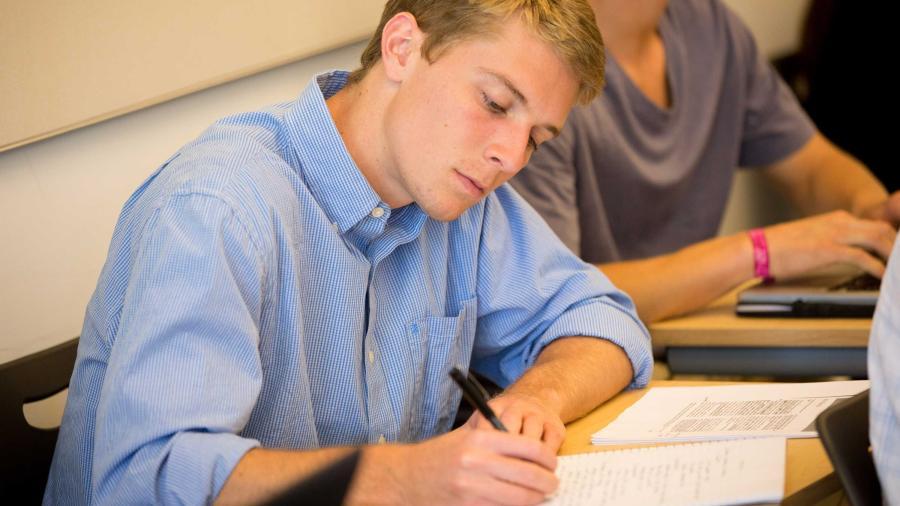 The writing minor is designed to expand students' writing practices while enriching their understanding of writing and rhetoric. As such, the minor can be a valuable supplement to many majors; it helps cultivate liberal arts inquiry and strengthens marketable skills. Although the minor is overseen by the English Department, the curriculum draws from disciplines such as art, history, communication studies, philosophy, and theatre arts.
Required Courses (8 Units)
ENG 104 Modern Grammar and Advanced Composition (4)
And one of the following:

ENG 006 Studies in Literature (4)
ENG 007H First-Year Honors Seminar in Literature (4)
ENG 045 Studies in Classic Literature (4)
ENG 060 Writers in Conversation (4)
ENG 090 Methods of Reading (4)
Electives (12 Units)
ART/PHI 131 Theory and Criticism in the Arts (4)
COM 101 Theories of Rhetoric and Communication I (4)
COM 103 Communication Criticism (4)
ENG 002 Composition (4)
ENG 014 Introduction to Creative Writing (4)
ENG 087 Introduction to Journalism (4)
ENG 111 Screenwriting I (4)
ENG 112 Screenwriting II (4)
ENG 113 Screenwriting III (4)
ENG 141 Creative Writing (4)
ENG 142 Workshop in Creative Writing (4)
ENG 143 Topics in Writing (2-4) [may be repeated as genres vary]
HIS 198 Senior Research Seminar (4)
TA 145 Writing for Performance (4)
No more than 8 elective units can be taken from the following:

ENG 167 Writers' Corner (2)
APP/ENG 168 Student Publications: Horizon (1-4)*
ENG 169 Student Publications: Phoenix (1-4)*
APP/ENG/IS 190/190SS Internship (1-8)*
ENG 192 Capstone Seminar (2)*
*Courses with an asterisk require the English Department chair's approval for writing-intensive units.