Student Life Office Welcome Students
A letter from Dr. Edee Schulze, Vice President for Student Life
Dear Westmont Students,
Westmont is a place that provides many options for students to thrive and be challenged so we know that you are faced with lots of opportunities here at college, whether you are a new student or a continuing student. In the classroom, you utilize critical and integrative thinking skills to wrestle with ideas that will sharpen your understanding of what it means to engage with the world and society. You will be pressed to consider how your beliefs intersect with important topics thus integrating your faith with your learning, one of the hallmarks of a Westmont education. Beyond that, you will have a opportunities outside of the formal classroom setting to contribute to and enjoy this community – through music, clubs, sports, student government, mission trips, residence hall activities, just to name a few. You will find a breadth of difference and diversity as you encounter people and events that are new or unfamiliar to you. All of these activities contribute to your spiritual, social and personal development. Just as this community will shape you, you will shape the community, making it richer and better because you will have left your mark. While your commitments will help you thrive personally, we caution you to not get over committed. Your academics are your priority as you remain faithful to your calling as a student in this season of your life.
Student Life is intentional about creating a community that is founded on biblical principles. The Community Life Statement and the Diversity Matters at Westmont intentionally appear in the opening pages of the Student Handbook: Policies, Procedures, & Resources because each is foundational and together describe the high responsibility and privilege you bear, having chosen to be a member of this community. I encourage you to read these statements every year you are a student here and to imagine how you will actively contribute to making Westmont a place that truly reflects our commitment to living and loving as Christ would. It might require taking risks, guarding your heart, controlling your tongue, entertaining a new perspective, submitting to authority or patiently listening to a friend in need. Full-hearted engagement with this community is no small task but is so rewarding when done well.
Westmont faculty, staff and administrators are here to support and to challenge you in the learning and development process. Our desire is that you would emerge from this year more fully formed to the image of Christ, having participated in dynamic academic opportunities and meaningful experiences with professors, friends, mentors, teammates, roommates and fellow students. If that happens we will have met our mission, which is to provide an undergraduate, residential, Christian, liberal arts community that serves God's kingdom by cultivating thoughtful scholars, grateful servants and faithful leaders for global engagement with the academy, church and world. Student Life is here to help, so please contact us or someone else on campus if you have questions or need some assistance.
May God richly bless you this year! We are glad you are here and count it a privilege to share this experience with you!
Edee Schulze, Ph.D.
Vice President for Student Life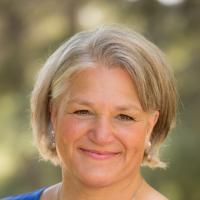 Edee Schulze, Vice President for Student Life