Experience Opportunities Research Symposium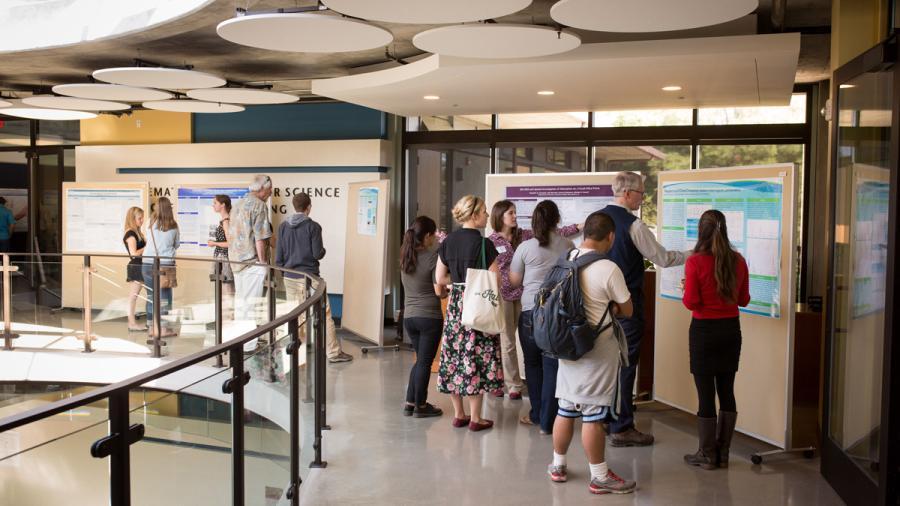 The 27th Annual Westmont College Spring Student Research Symposium 
Thursday, April 20th, 2023 from 3:30-5PM 
In the Winter Hall Atrium
One of the hallmarks of Westmont College's academic program is the opportunity for undergraduate students to work directly with faculty on research projects. Work presented at the annual Spring Student Research Symposium includes student research conducted during the past year from all three divisions of the college (Humanities, Social Sciences, and the Natural and Behavioral Sciences). 
We look forward to soaking in the original research of our students and celebrating their tremendous accomplishments!
---
Who should apply?
Any student in any major who has or is participating in a semester-long or longer research project under the supervision of a faculty member during this academic year can apply. This would include, but is not limited to, major honors students, independent research students, and students in a class with a significant cumulative research project (e.g. some senior capstone classes). Students working in partnership on the same project should apply together.
Symposium format
Each presenter or team prepares an overview of their research project in the form of a poster (max size: 48" x 36"). All posters are displayed throughout the 1 1/2-hour event and presenters stand by their poster to discuss the research with visitors and answer questions. 
Poster design and printing
Posters are usually made as one large "slide" in PowerPoint or Keynote, or in another graphics program. Printing can be done either locally and picked up or online and shipped here. Some options are below.  In designing posters, students should keep in mind the physical distancing requirements and that attendees will not be able to get within 6 feet of the poster.  We suggest less text, larger font for the text that is included, and more visuals like schematics, pictures, graphs, and tables.
www.makesigns.com (also has templates you can download into PowerPoint; ships from Chicago)
The Print Center in Office Max (can be shipped to you or picked up at the store but maximum width for in store, same or next day pick-up is 24")
Westmont Reprographics (may have limited availability and would need a minimum of 3 days lead time; 24" max width)
---
How to apply
Email your project title, list of authors (include the year of graduation and email address for each author), name of your faculty mentor (include their department), and a 150-word maximum abstract to Heidi Henes-Van Bergen at hhenesva@westmont.edu. Also, since sometimes student authors have graduated, are abroad, or are otherwise unavailable for the symposium, please underline the name(s) of the student(s) who will be presenting the poster. Please have all this either embedded in the email or attached separately as a Word document. Use the sample for guidance of how it should be formatted. Finally, if you have any special needs (e.g. a small table to display something or you need to be near an outlet, etc.) then include this as a note in your email.
Please submit your abstract to Heidi Henes-Van Bergen at hhenesva@westmont.edu.
DEADLINE IS FRIDAY, MARCH 31st, 2023
Sample title/author list/abstract
The Role of TDP-43 Oligomerization of ALS Neurodegeneration
Brady Quon ('16) and Megan Korff ('16), Faculty Mentor: Kristi Cantrell, Chemistry
Author Email(s): author1@westmont.edu, author2@westmont.edu
Abstract : TAR-DNA-binding protein (TDP-43) is an RNA processing protein that is primarily located in the nucleus. Recent research supports that TDP-43 aggregation into fibrils and oligomers, as well as translocation into the cytoplasm, are characteristic of the neurodegenerative disease Amyotrophic Lateral Sclerosis (ALS). Several ALS-associated mutations have been found in the carboxyl terminal, glycine rich region of TDP-43. Six, 13 residue peptide fragments are currently being synthesized to elucidate the conformation and aggregation of the TDP-43 glycine-rich region. Fibril assays have been prepared from two of the purified peptides and imaged using electron microscopy. Thioflavin T was applied to any fibrillar aggregates to determine the presence of beta-sheet secondary structure.