Women's DiversiTEA Previous Speakers
Women's DiversiTEA 2017 Speaker Nancy Wang Yuen, Ph.D.
#MeToo: Racism & Sexism in Hollywood and Beyond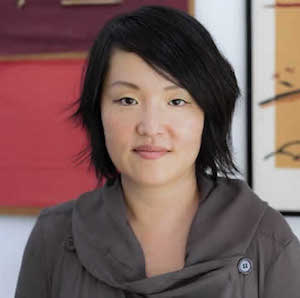 #MeToo has exploded on social media, as women speak out against sexual exploitation in Hollywood and beyond. In this interactive workshop, Dr. Yuen will break down how sexism and racism play out in Hollywood and relate it to our everyday lived experiences.
Nancy Wang Yuen, Ph.D., is a sociologist, documentary producer and pop culture geek. She is the author of Reel Inequality: Hollywood Actors and Racism (2016), the first book to examine the barriers actors of color face in Hollywood and how they creatively challenge stereotypes. She also pioneered the first study of Asian Americans and Pacific Islanders on television (2005-6) and the 10-year followup study, Tokens on the Small Screen: Asian Americans and Pacific Islanders on Prime Time and streaming Television (2017).
Nancy is an expert scholar and speaker on race and media, appearing on BBC WorldTV, NPR, Los Angeles Times, and Washington Post. She is a regular contributor to Self.com and the Huffington Post. She is an Associate Professor and the Chair of the Sociology Department at Biola University.
Link to her latest book is below.
---
2016 Speaker: Tabatha Jones-Jolivet, Ph.D.
---
2015 Speaker: Veronica Ponce
---
Women's DiversiTEA Fall 2014 Speaker: Dr. Peace Amadi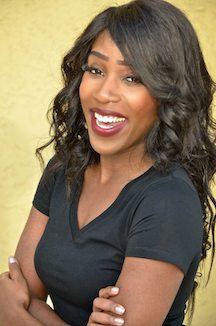 November 2, 2015 our keynote speaker was Dr. Peace Amadi, a professor of psychology at Hope International University in Fullerton, CA and a mental health expert.
Peace shared with us the importance of seeing ourselves as God sees us. She asked all the women to close their eyes and to think of one word that God was thinking about when he created them. Then she had each woman share what that word was. Whatever word they had, (Strength, Wisdom, Faithful, etc...) Peace encouraged us to call that person by that word instead of their name...this way that woman could hear and be reminded of who they are in Christ and how important they are to God and how they were created on Purpose!
To watch the video of what Peace shared, click here
---
Women's DiversiTEA Spring 2014 Speaker: Toya Cooper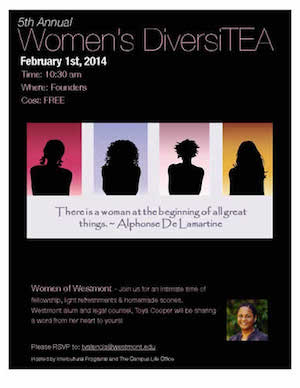 Toya is a Westmont alum and also serves as legal council for Westmont.
An amazing story teller, and speaker Toya shared some of her personal story with the women and gave us all some great nuggets to take with us.
---
Women's DiversiTEA 2012 Speaker: Chiraphone Khamphouvong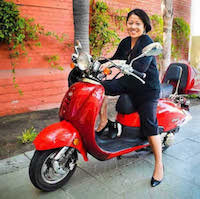 Chiraphone has been a favorite Westmont chapel speaker over the years. Her energy and "real talk" has been refreshing for those that have had the privilege of being around her.
At the DiversiTEA she shared about the divine relationship with God, self, people and life-style of learning, service, rest and generosity.
Chiraphone worked at Azuza Pacific for many years but in 2014 took a new position working for World Relief in Cambodia.
---
Women's DiversiTEA 2011 Speaker: Kenya Davis-Hayes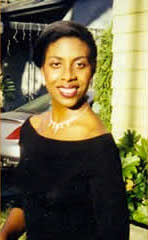 Kenya Davis-Hayes is an associate professor of US History at California Baptist University and studies the imaging of race and its impact on popular culture. Her research has taken her around the world and she has lectured about the politic of American popular culture in universities including the National University of Rwanda, the Beijing Academy of Social Sciences and UNAM in Mexico City.
She also serves as an Arnold Schwarzenegger appointee to Cal Humanities the state branch of the National Endowment for the Humanities and is the academic in residence for the Women's Empowerment Foundation which educates women on topics including body image, women's rights and international women's issues. She is currently working on book regarding the history of black women on television during the Civil Rights era.
Kenya's theme for the Tea was "Not Called to be Shy: Achieving Your Goals through the Strength of the Lord".
---
Women's DiversiTEA 2011 Speaker: Jacqueline Rowe Fields
Jacque shared that women are a lot like tea...."the hotter the water, the stronger we get!". She talked about our resilience and how women become stronger under pressure. Her analogy of the tea bag was brilliant!
Jacque is Cornerstone Prep's director of community and family relations. Jacque returns to her hometown and joins Cornerstone Prep after serving as a college administrator in Michigan. As director of community and family relations, Jacque is charged with enriching community life by weaving together the natural talent and human resources that flourish in Binghampton.
---
Women's DiversiTEA 2010 Speaker Shauna Niequist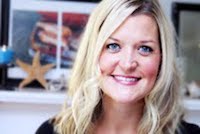 Shauna Niequist is a Westmont alum and the author of Cold Tangerines, Bittersweet, and Bread & Wine. Her newest project, a 365-day devotional called Savor, will be available in March .She is married to Aaron, and they have two wild & silly & darling boys, Henry & Mac.
---
Women's DiversiTEA 2009 Speaker Marion Skeete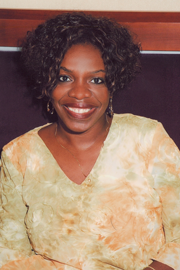 Marion Skeete, the visionary of LegacyMakers, is a fourth generation minister of the gospel who comes from a rich legacy of pastors, evangelists and missionaries. However, at a very young age, she "owned" her own faith and calling, and is pursuing what has already pursued her! With a Master of Divinity and a concentration in Cross-cultural studies from Fuller Theological Seminary in Pasadena, CA, where she was elected and served as All Seminary student body president from 2000-2001, earning her a leadership award, Marion is passionate about developing multicultural leaders and disciples. She also earned a Bachelor of Arts in Communication from Lee University, Cleveland, TN. Reverend Marion is an ordained minister with Evangelical Church Alliance, and has been involved in pastoral and missions ministry for over 20 years, having led missions teams, humanitarian efforts, and relief and development work in the name of Christ.